Welcome to Bear Diner
The Only Bear Diner in bear, de!
Address
603 Pulaski Hwy.
Bear, DE 19701
Order Takeout
302-322-6242
Our Hours
Everyday: 6am-9pm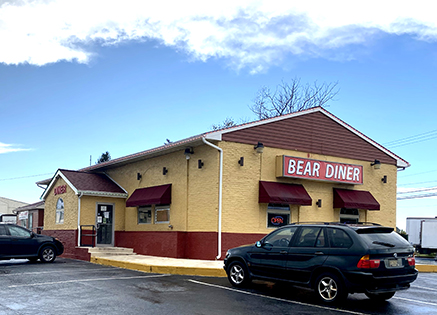 Serving Since 2002
We've been making families happy with our warm atmosphere, friendly staff and tasty dishes for well over a decade and look forward to another decade of quality service!
Find us on Door Dash for delivery today!
HOMESTYLE MEALS
Delicious Breakfast, Lunch and Dinners
Weekend Breakfast Buffet
All you can eat and only $8.99! Start your morning right with a delicious hearty breakfast.
Lunch Specials Starting at $6.99
Take a break from the rat race with our affordable Lunch Specials! The perfect way to fill up during your lunch break.
Dinner Specials Starting at $8.99 
Get a full portioned delicious dinner for a low price! We offer an array of pastas, homestyle turkey entrees and much more!
Very Friendly service. Good food quality and large portions. Was my first time there and will be back.
Good food, quick service. Weekend buffet has eggs, French toast, bacon, sausage, chipped beef, oatmeal, fruit, etc. Great value. Tvs to see the local news. The diner also has separate areas to consolidate larger groups. Parking all around building. A short drive from rt1, 13, 40, 273.
This diner is perfect. Great prices and amazing food. Honestly I wasn't expecting such greatness but, boy was I surprised. The staff is so kind and curtious. They make you feel like you've been coming here for ages even on your first visit. The food was great the service amazing and overall this is a place I'll come to frequently.
It was AMAZING! It's a small quiet restaurant but the service was awesome! They are all about the costumer.. The food came out quick and was delicious! The breakfast buffet was great as well. Over all it's a clean, quiet and great service dinner.
Come Visit Us!
603 Pulaski Hwy.
Bear, DE 19701